Divorce and child custody is a hard conversation with your spouse — now try talking to your kids about it. We know the discussions with your children about joint custody can be emotionally difficult for both them and yourself. In today's blog, we're going to give six tips that can improve how the conversation goes.
When it comes to family law in Tempe, The Law Office of Ronald Kossack is here for you. Whether you're just now starting the divorce process and child custody or you've been separated for years and would like to modify your child custody agreement, our family law attorney can help. Contact us today for a free consultation.
Work with your ex.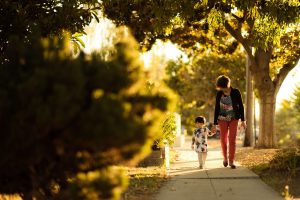 Though you and your ex may not exactly get along well, presenting a united front to your children will be an essential part of beginning joint custody. This will show that the changes are coming from both parents and it will ensure you and your ex are aware of what each other is telling the children.
Help your child feel loved.
Kids will often blame themselves or feel unloved as child custody arrangements are first enforced. When initially telling them about the upcoming changes, emphasize that you both love them and will always be there for them — at the most, the other parent is only ever a phone call away.
Explain the visitation schedule.
Be perfectly upfront about the visitation schedule and tell them there will be a calendar or other form of organization for the family to use. Point out similarities — like school, friends, etc. — and differences. This will help your children know what to expect.
Answer questions and address concerns.
After discussing the visitation schedule that resulted from your family law case, answer any questions or concerns your children have. Do so honestly and with love and support. By making sure they understand from the beginning, you'll be better off later on. Make sure they know they can always come to you with other questions.
Be patient.
Just as this will be a process and a learning curve for you, your children and your ex will also need time to adjust. Keep this in mind and be patient. When you first begin joint custody, it could be wise to look into a therapist for your children to help them cope.
Don't badmouth your ex.
You may have those moments of anger with your therapist or with your best friend, but try as hard as you can to not complain about your badmouth your ex in front of your children. Your ex is still their parent, whom they love and care about.
Visit The Law Office Of Ronald L. Kossack Today
For family law in Tempe, you can't beat our family law attorney. For everything from child custody and child support to divorce or father's rights, our family law lawyer can help. Ronald Kossack has practiced law since 1993, and he can help with your case. Contact our family law firm today for a free initial consultation.